That's what the critique of one of my stories said. That made my day!
Spirit Ranch

Set on a horse ranch north of Tucson, Arizona, Spirit Ranch, like the mythical Brigadoon, appears when needed and disappears into the mists of time when the job is done. Some of the inhabitants of Spirit Ranch are aware of what is going on, while others have no clue.

Co-written with author William J. Schuler, Spirit Ranch is available for Kindle through Amazon.com


THE LEPRECHAUN CHRONICLES
#1 Mavis and the Leprechaun

When Mavis buys a raffle ticket, she thinks she's taking a chance on a house cleaning service. When a real, live, magical leprechaun appears in her kitchen, her life is about to be turned upside down. Leprechaun Greenberry Muldoon was caught cheating on his fiancee (with her brother, no less) and sentenced to serve others by straightening out the life and home of whoever wins him. When he completes his job, he must be passed along to the next lucky person by their winning him in some way. Mavis is in for a make-over, not only of her appearance, but of her love-life, her apartment, and her career, before listing Berry 's services on eBay.

Available FREE for your Kindle at Amazon.com or Smashwords.com for other reading devices.

THE LEPRCHAUN CHRONICLES
#2 Kelly&Mom

The wreck that killed her father leaves nine-year-old Kelly in a wheelchair, convinced she cannot walk. When she begs her mother to buy the leprechaun listed on eBay, Maggie capitulates, as she always does, to keep the peace with her spoiled daughter. Greenberry Muldoon arrives with a pop to face convincing Kelly she can walk, and her mother she can love again. And how will Maggie's parents react to a gay leprechaun? It takes Berry 's magic to straighten out Kelly and her mom's lives.

Available for Kindle from Amazon.com and for other reading devices from Smashwords.com

ROCKING CHAIR AND AFTERNOON TALES

This is an anthology of stories set in Mississippi , published by the Gulf Coast Writers Association. I drew on the experiences of living in Greenwood , Mississippi for many years to come up with the story, Ghosts. I call this one 'creative non-fiction', because most of it is real—just re-arranged in time. And I was really the mom, not the young narrator. The ghost, however, was real—very real!

Rocking Chair and Afternoon Tales is available from www.gcwriters.org

Elements of Time

This anthology contains prize winning stories involving the past, the present, or the future. I am honored my work is included in this collection.

Available for purchase at www.twintrinitybooks.com, www.amazon.com, or can be ordered from your local bookstore or Books-A-Million.

ELEMENTS OF DIMENSION

Elements of Dimension contains prize winning stories of Science Fiction, Reality, and Fantasy. I am proud to say my story Mavis and the Leprechaun won first place in the Fantasy category, and The Replicator was readers choice.

Elements of Dimension is available at www.twintrinitybooks.com and Amazon.com

Coming Soon:

In the fourth anthology in the series, "Elements of Life", Birth, Life, and Death, you will be able to read my stories:
The Jar Girl - In ancient China, a group of performers, freaks, and wild animals wind their way across the country. By the side of the road, they find a baby. She is destined to become a Jar Girl, and save two lives.
Death Comes to Shadow Cove - All the people in the old village of Shadow Cove are strange. Everyone has some sort of special 'magic' talent, which they try to keep hidden from the 'newcomers' who have moved in from the modern world. But sometimes secrets are hard to keep, especially when Mafia hit men are after you!

The fifth in the 'Elements' series has stories of First Love, The Engagement, and The Wedding. "Elements of Love" includes:

Granny Gets Engaged - The whole family is upset when widowed Granny begins dating an old flame. When they tell her 'anyone but him', she takes them at his word and is seen all over town with a man thirty years her junior. Of course, she's now dressing like she's thirty years younger.
Johnny Falls in Love - When an enchanted toad shows up, everyone blames Johnny, who denies turning the school bully into a toad to give to his sweetheart. When the enchantment is lifted, there is a man they have never seen before. Are there more people like them somewhere?

BROUSSARD COURT

The title of my novel about the Hoodoo shop in New Orleans has finally been shortened to Broussard Court , and it's still looking for a home.
Madame Badeau, black owner of a curio shop full of Hoodoo spells, strange objects, scents, and magic dies, leaving her niece, who believes she is Caucasian, Madame's only living heir. Addie must live at Broussard Court for a year to inherit Madame's property. She's left trying to figure out all the family secrets of a great-aunt she has never heard of, in a city she's never visited. Will she also inherit Madame's reputation?

Addie's story is woven together with those of the other people whom the spirits have brought to Broussard Court for love and protection: the abused wife: the single mother: the naïve young woman. As Addie finds love with Parker, a computer geek who is skeptical of everything mystical, the other women also find love with men who are drawn to the special place that is Broussard Court.

I do not have stories in the first anthology being offered, Elements of the Soul, but many of my friends do, and there is a lot of entertaining reading in those pages. I encourage you to order your copy at this site.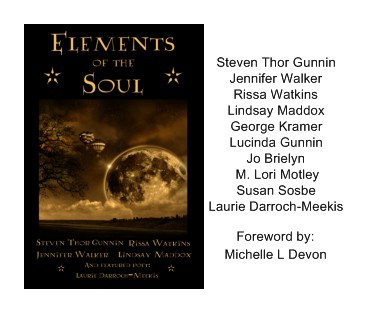 Thanks for checking out my site.



Nancy Smith Gibson is a transplanted Okie from Muskogee. Born in Muskogee, Oklahoma, she received her early education in Oklahoma City schools. She attended Linwood Elementary, Taft Junior High, and Classen Senior High School before moving to Hot Springs, Arkansas with her parents. She graduated from Hot Springs Senior High and afterwards attended Baylor University . She is active in the Melting Pot Genealogical Society and contributes articles to their publication, The Kettle. She has four children and four grandchildren and lives near Hot Springs with two dogs and three cats.